Add your blog title and URL.
Follow your hostesses Blogging Hints and the feature site Life in the Hen House.
Follow the blog right before and right after yours in the list.
Follow any other blogs you wish
Make sure you leave a comment so that you'll get a follow back.
Grab our Catch a Wave Wednesday button if you'd like so that followers will know where to leave a comment.
*Each week I will randomly select one of the blogs listed in the Linky to be the feature blog for the next week.*
Featured Blog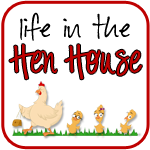 Let's get to know Sara from
Life in the Hen House
...
1. How long have you been blogging?
I started this blog back in 2008 shortly after my son was born premature at 24 weeks.


2. Tell us a little about yourself.
I am a 29 year old SAHM mom to a son who is 2.5 and a daughter who is 15 months. I love to read, blog and shop (especially Etsy and babyGap!).
3. What is the focus of your blog?
The blog started as a way to create awareness for prematurity and keep friends and family updated on my son, Jacob, who is a healthy and thriving former 24 weeker. He was my inspiration for the blog and when my daughter was born, it soon became a blog about our family life and my creative projects.

4. What is the most important thing you've learned from blogging?
That blogging is a great outlet for opinion and creativity! I love posting my project ideas to get feedback when I am being indecisive and I love hearing others and voicing my own opinions on everyday topics. I value every person who takes the time out of their busy day to stop by our blog and try my best to return the favor to as many as I can.
5. Is there anything you would like to add?

I am so excited to be a featured blogger on Catch a Wave Wednesday and look forward to "meeting" some new blogging friends!