Welcome to my
Catch a Wave Wednesday Blog Hop
. While you're here, don't forget to sign up to download a
FREE
copy of my eBook
"How to Increase Your Blog Traffic"
.
The rules are simple.
Add your blog title and URL.
Follow your hostesses Blogging Hints and One, Two, Buckle My Shoe. Follow the blog right before and right after yours in the list.
Follow any other blogs you wish
Make sure you leave a comment so that you'll get a follow back.
Grab our Catch a Wave Wednesday button if you'd like so that followers will know where to leave a comment.
*Each week I will randomly select one of the blogs listed in the Linky to be the feature blog for the next week.*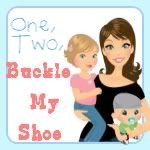 Let's get to know more about Erica from
One, Two, Buckle My Shoe
...
I'm so excited to be a feature blog this week so here goes......I am a 27 year old mama of a little girl (Sofia) age 3 1/2 and a little boy (Antonio) age 15 months, currently residing in Northern NJ. I work a full time 40/hr per week job in telecommunications and I also have a small ETSY shop as well. We are your typical loud ....fun loving....Latin family! I started this blog when my first daughter was an infant as a way to share her updates and photos with family and friends and it's grown into so much more. Through blogging I've met so many wonderful women and mothers and received so much advice on parenting, kids activities, you name it! I think I have a bit of a blogging obsession at this point :) I can't imagine my life without blogging. I'm also a craft, fashion, & photography lover and recently started doing graphic blog design as well! I hoope you all enjoy my blog and I will visit yours back as well! I'm always open to meeting new bloggy friends!
Yours, Erica