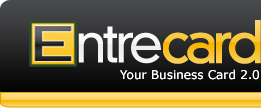 Entrecard
is a free banner network which allows you to promote your website or blog on over 40,000 websites. Entrecard is a useful way to network your website and increase traffic. Entrecard uses a credit system in which you earn credits when you visit other blogs within the network and click "drop" on their Entrecard currently advertised ad. you can earn credits by dropping on other blogs and when others "drop" on your site. Credits are then used to create ads. You then choose which website you want to place your ad. Websites have different ad credit costs based on their Technorati and Google ratings.
Additionally, Entrecard will give you 200 credits when you first sign up. To sign up, visit Entrecard.com and add your website and a 125 x 125 ad or blog button. Then you should visit other blogs and start dropping to earn more credits to advertise with. The number of ads you can drop in a day is unlimited and up to you.
Entrecard also has a referral program in which you will receive 300 credit for each person you refer. Visit
Entrecard
to learn more about their advertising and referral programs.